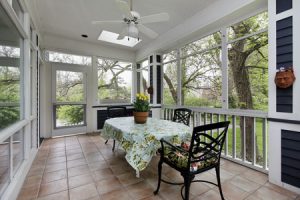 If you're thinking about adding an outdoor living space to your home, you have multiple options to choose from. Screened rooms and sunrooms, in particular, are popular choices here in Florida!
What is a Sunroom?
A sunroom is a roofed structure that is connected to your home with glass walls, usually from the floor to ceiling. 
Sunroom Benefits
A sunroom gives you that feeling of being outdoors, but also provides protection from the weather. Since sunroom walls are made of glass, you get the benefits of the sun's rays on nice days without having to deal with cold, wet rain on others.
Gardeners love sunrooms because they're the perfect place for fragile, cold or heat-sensitive plants to stay out of the elements.
Sunrooms can also boost your home's value, since they are suitable for use year-round and often considered to be indoor square footage.
What is a Screened Room?
A screened room is similar to a sunroom, except the walls are an aluminum frame with a fine mesh screen instead of glass.
Screened Room Benefits
Screened rooms and porches are one step closer to being outside than sunrooms; you'll get to enjoy those summer breezes as you relax, sheltered away from the sun.
Screened rooms are great for entertaining, enclosing an in-ground pool, or keeping hardy tropical plants. They also cost less to build than a sunroom since they don't use glass, which can be expensive. 
If your family wants an outdoor space to use when the weather cooperates, a screened room or porch is your best bet.
Create an Outdoor Space of Your Dreams in Tampa Bay
A.R.M. Aluminum Inc. in Tampa can build you the screened room of your dreams. We'll help you design a customized outdoor space option that fits your lifestyle and budget. Call (813) 684-8800 or contact us online today to start the free estimate process!