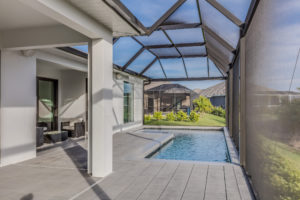 A high-quality enclosure does more than just make your pool area look great; properly installed pool enclosures provide a heightened level of safety for both your guests and uninvited visitors.
A few safety benefits of a high-quality pool enclosure like those built by A.R.M. Aluminum include:
Reduced risk of accidents
The fear of an accidental drowning of a child, animal, or even someone that just doesn't know how to swim is always on the back of a pool owner's mind. Ease some of that worry by installing a pool enclosure with a childproof entry lock as this will keep unwanted guests out of the pool area when you are not around to supervise.
Pool stays cleaner
Keeping the pool free of debris is one of the main reasons to install a pool enclosure. Many people abhor having to fish out tree limbs, leaves, and anything else that might fly in the pool's direction. Not only does this trash make the pool look bad, it can also bring bacteria with it that can make pool goers very sick. By enclosing your pool with a top-quality aluminum structure, you'll be keeping these nasty germs out.
Algae spread is also a large concern in Florida. Algae builds up on many surfaces and can cause serious health problems for some people. By enclosing your pool and using algae-resistant screens and shades, you'll prevent unsightly and potentially dangerous algae accumulation around your pool area.
UV protection
The sun is serious here in Florida in the summer time. Even a quick dip in an open air pool can cause sunburn and heat exhaustion, both of which have the potential to be very dangerous. With an aluminum pool enclosure from A.R.M. Aluminum, you can enjoy the warm sunshine without the harmful UV rays. Just opt for UV filtering screens and shades for optimal sun protection and shade.
Deters criminals
Have you ever heard of the expression, "out of sight, out of mind"? Unsavory individuals may be tempted to snag some of your pool furniture or accessories if they are left out in the open. However, most opportunistic criminals aren't going to take time to break into a locked pool enclosure, as this would carry a much more serious charge than just grabbing something out of your backyard. Keep your belongings safer by concealing them inside your pool enclosure.
Pool Enclosures in Tampa Bay
If you're ready to make your pool area cleaner, safer, and more attractive, call us at (813) 684-8800 or visit us online for a free estimate on a custom-built aluminum pool enclosure by A.R.M. Aluminum in Tampa today!