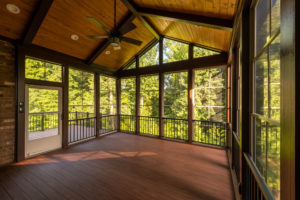 Screened rooms are quintessential here in sunny Florida. They are places where the whole family can enjoy each other's company with food, games, and conversation!
Or, maybe you'd enjoy some bug-free private time in the mornings before the rest of the family wakes up. 
Or, perhaps the kids would enjoy doing their homework out in the sun instead of cooped up in the house. The possibilities are truly endless!
Adding a screened room to your home is a smart, financially-savvy idea because it:
Adds family and entertaining space
No matter if it's family game night or cocktail hour, a screened room will give you plenty of comfortable space to host guests without making a mess inside of your home.
Upgrades your home's curb appeal
Functional outdoor spaces are popular in today's market. Potential buyers will love the potential for outdoor living and entertaining, and a screened room may be the only thing that helps your home stand out to buyers. When you are ready to sell, the extra square footage added by the screened room could fetch a higher price than homes without one.
Keeps you out of the weather
Exposure to the full force of the sun here in Florida isn't just uncomfortable, it can be dangerous. A screened room is the best solution to enjoy our beautiful weather without the risk of sunburn or heat exhaustion. Add in a ceiling fan to move the air around on especially humid days.
Lets you flex your green thumb
Add bright, colorful flowers, a small herb garden, or even experiment with a vertical veggie garden in your new screened room. You won't have to worry about tender plants wilting in the summer sun, plus you won't have to trek across the yard just to get some basil for tonight's spaghetti dinner.
Screen Room Installation in Tampa
Trust the screened enclosure experts at A.R.M. Aluminum to build a stylish, durable, and affordable screen room for your Tampa home. Call us at (813) 684-8800 or request a free estimate online and start enjoying your outdoor space today!