Tampa Aluminum Swimming Pool Enclosure Company
Swimming pools add pleasure, a break from the heat, and increase our quality of living. Protecting your pool is vital to its longevity and will cut down on cleaning and maintenance costs as well. Aluminum swimming pool enclosures provide protection for both your pool and the people enjoying it. Screened pool enclosures not only protect your investment but add resale value to your home at an affordable price.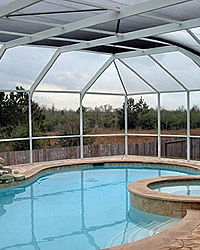 With 60 years of aluminum pool enclosure experience, we pride ourselves on quality and craftsmanship. Our custom pool enclosures can be built to fit your pool's design for a quality look that will last for years.
At A.R.M Aluminum, our highly trained pool enclosure contractors are friendly and professional delivering quality results. Aluminum screen pool enclosures are our specialty and our pool enclosure services will prove it. Not all aluminum pool enclosure companies stand by their work like we do with our 3 year warranty for a worry free aluminum pool room enclosure that you can rely on for added protection year after year.
Consult with one of our swimming pool enclosure experts to explore the reasons why adding a swimming pool aluminum enclosure is right for you. As the leading Tampa pool enclosure company, we are standing by ready to provide you with the best aluminum pool screen enclosures in the area
Contact us today for more information by requesting a FREE Estimate with one of Florida's best enclosure specialists, A.R.M Aluminum!