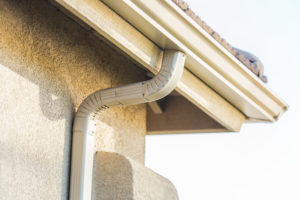 When it's time to choose a gutter system for your home, you'll need to choose between seamless and sectioned gutters. While sectioned gutters might cost a bit less, the advantages of a quality seamless gutter system far outweigh the extra cost. 
Go with A.R.M. Aluminum, Inc. in Tampa, and you'll enjoy a seamless gutter system that is:
   1. Customized
There is no one-size-fits-all with our seamless gutters. We craft and cut your seamless gutters right there at your home to the exact measurements and specifications of your structure. That means you'll get gutters that are a perfect fit every time!
   2. Cleaner
Less dirt, debris, leaves, and trash build up in seamless gutters because there's nowhere for them to accumulate. No joints mean nowhere for all that nasty gunk to hide!
   3. Low Maintenance
Did you know that every seam in a sectioned gutter system should be caulked and resealed every 1-5 years? That means if you choose outdated, sectional gutters, you could be on top of a ladder every year adding caulk to seams that are every 10 feet along. That's a lot of elbow grease keeping those joints intact to prevent leaks and backups! With our seamless gutter system, you'll never have to worry about crazy maintenance requirements. 
   4. Selling Point
When you're looking to buy a home, a seamless gutter system already installed would be a definite plus. So, treat your home the same way! Enjoy the benefits of the seamless gutters while you live there, then use it as a convenient selling point if you ever decide to move.
   5. Curb Appeal
There's just something more appealing about a seamless gutter system. The smooth, continuous flow of these gutters gives a modern, high-quality look that sectional gutters just can't match. Speaking of matching, did you know that your seamless gutters can be color-matched to your home's exterior color (paint or siding)? Boost your curb appeal with sleek, custom-colored seamless gutters and expect a boost in your resale value as well!
   6. More Durable
We've mentioned several benefits of not having seams in your gutters already, but that lack of joints makes the entire seamless gutter system more durable as well. With fewer places to break, you won't be bogged down with constant repairs.
   7. Long Lifespan
Aluminum seamless gutters will last you 20+ years with proper care. Choose a more expensive gutter material, and you'll be able to go even longer without replacing them. Copper gutters can last 50+ years, and zinc gutters can last up to 100!
   8. Easy Installation
When you use A.R.M. Aluminum in Tampa Bay, you'll be able to see just how easy seamless gutter installation on your home or business can be! Our professionals work with seamless gutters day in and day out, so we've got the experience to fit you with the gutter solution that works best for your situation, expectations, and budget. Call (813) 684-8800 to schedule a free estimate for your seamless gutter installation today!