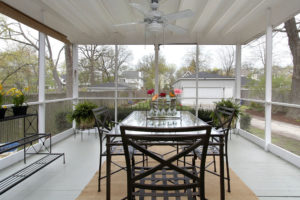 One of the great things about living in Florida is that we rarely have temperatures cold enough to avoid going outside. In fact, we have the opposite problem… sometimes it's too hot for outdoor activities to be enjoyable.
If you have a screened-in outdoor room, like the ones we install at A.R.M. Aluminum in Tampa, those extra hot days don't have to be so brutal. Use our tips for making your screened room more comfortable during the warmest summer months:
Ceiling Fans
We are faithful believers that no outdoor room is complete without a ceiling fan. Ceiling fans are great during both hot and cold weather since they can both pull air up and also push air down. The air circulation ceiling fans provide keeps the room from feeling stuffy and stale. Outdoor ceiling fans come in all kinds of colors and finishes, fitting into whatever aesthetic you choose seamlessly.
Misting System
There's nothing better than a cool mist on a hot summer day. Misting systems are especially popular for screened pool rooms, but we think they're great in any outdoor space! Just make sure you use outdoor furniture to prevent mold and mildew.
Blinds & Shades
Custom fitted outdoor blinds or shades can provide quick and easy respite from the sun on the hottest summer days. Using blinds or shades made with waterproof, algae-resistant material is essential here in central Florida. Luckily, various colors and looks can be ordered to complement your style.
Portable AC
If you have electricity run to your screened room, consider using a portable air conditioning unit on scorching summer days! A portable AC unit works best when combined with shades to keep as much cool air inside as possible.
Bright White Paint
Strategically placed white paint can reflect the sun rays away from your screened room and keep the ambient temperature down. The ideal placement of the paint will depend on several factors, including how the sun falls on your home during the day, how seating areas will be affected, and your home's aesthetic. Be careful not to paint areas that will reflect into people's eyes.
Holiday Wonderland
Even though cold weather isn't frequent here on the Gulf coast, we do occasionally get hit with a cold snap during the winter months. Use the cold weather to your advantage and turn your outdoor space into a holiday wonderland! No matter if you celebrate Christmas, Hanukkah, Kwanzaa, or something else, using your outdoor space to celebrate your traditions is a great idea. With all of the fun lights and decorations, no one will even notice the cold. And, most importantly, don't forget the hot chocolate!
Tampa is a great place to enjoy your screened outdoor spaces all year. You have lots of options to keep your screened room cool on the hottest days, and if you're creative, maybe even some ideas for when it gets a little cool outside. When you're ready to enjoy your outdoor space regardless of the season, trust the experts at A.R.M. Aluminum to get the job done right. We've installed many screened rooms of all shapes and sizes right here in Tampa, so we have the experience and tools required to give you the screened room of your dreams. Call us at (813) 684-8800 or contact us online for a free estimate today!