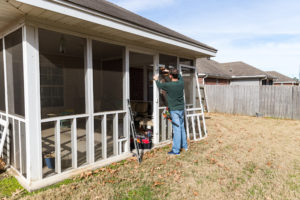 Spoiler alert…the answer is yes.
Having a screen room attached to your home here in Florida is almost ubiquitous. Screen rooms provide protection from the elements while still giving you that outdoor feeling. In a place where the weather is beautiful and inviting, outdoor living space is essential.
However, there are strict rules when it comes to building a screen room onto your home here in Hillsborough County. A variety of rules must be strictly adhered to, and licensed contractors are often required to help design, build, and finish the screen room addition. All screen room additions must be permitted before construction begins unless the property owner qualifies for an exemption.
What Will Happen If I Don't Apply for a Permit?
It's hard to say exactly, but there is a chance that a neighbor will turn you in for conducting unpermitted work. You would be quite surprised at how common this occurs! Once the county becomes aware of unauthorized construction, you should get ready for a visit from an inspector. This may also be followed by fines that will begin accumulating if the addition is not removed within the specified time frame provided by the county.
If your neighbors don't rat you out, you'll definitely pay the price if you ever try to sell the property, since it won't pass inspection. At that time, you'll have to shell out thousands to get the addition up to code or simply tear it down to make the property saleable. 
How Do I Apply for a Screen Room Permit in Tampa?
The easiest way to get a screen room permit in Tampa is to go through a reputable local contractor like A.R.M. Aluminum Inc. We will handle the entire permit process for you, so you never have to deal with the stress of drawing up a site plan, figuring out the application process, or finding the time for inspectors. 
Hillsborough County's government website has set up an online system called HillsGovHub that contains all necessary information that a property owner needs to apply for a permit and to track the progress of their application. This site also contains the official document that explicitly details the permit requirements for screen rooms. To apply for a screen room permit in Tampa you must fulfill the following:
Submit a site plan that shows various site features and confirms compliance with the Land Development Code

Submit a digital copy of signed and sealed plans by a licensed designer in the State of Florida

Submit an Owner Builder Disclosure Statement, if applicable 

Submit a Notice of Commencement prior to the first inspection
Once the permit is issued, you may then schedule the required inspections to begin the construction as outlined by the county.
Licensed Screen Room Contractor in Tampa Bay
Take the stress out of building a screen room by calling the screen room addition experts at A.R.M. Aluminum Inc. We've built countless screen rooms right here in Tampa, so we're very familiar with the permit and inspections process in Hillsborough County. Call us today at (813) 684-8800 to schedule your free estimate!