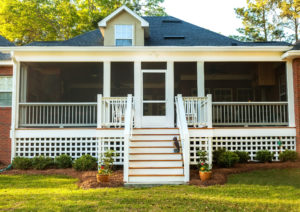 Having a roofed patio is great, but it doesn't do much to keep out the pesky insects that swarm all over Florida during spring and summer. So how do you enjoy your outdoor patio without slathering on bug spray or dealing with painful, itchy bug bites? Screen it in!
Screen Your Patio In to Keep the Bugs Out
If the flies, mosquitoes, and other creepy-crawlies are keeping you from using your outdoor patio, it's time to take back control! Upgrade your roofed patio to a convenient, versatile, and bug-free screened room with A.R.M. Aluminum of Tampa Bay. Our team can quickly and easily modify your existing roofed patio into a custom-built screened room, allowing you to finally live in your outdoor living space.
Benefits of a Screened Room
Imagine all the ways you could enjoy a professionally installed aluminum screened room at your home. You could relax outside in the warm summer breeze, start a sweet-smelling potted herb garden, or finally have a place to entertain guests without being cooped up inside. Screened rooms offer you and your family a comfortable outdoor space without harsh UV exposure or the risk of dangerous insect bites.
Screened rooms are also great for families with young children and pets because they allow the family to be outside without the worries of roaming an open yard. Kids can play freely without danger and you don't have to worry about your pets bothering the neighbors, or their pets bothering you!
Upgrade to a Screened Room Today!
A.R.M. Aluminum is Tampa's premier custom aluminum screened room installer. We've helped families transform their roofed patios into more functional spaces and we can help you too! Call 813-684-8800 or contact us online to start designing your screened room today!