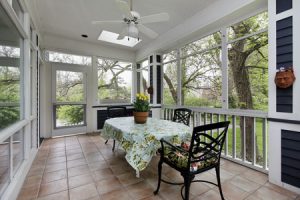 There are a lot of things that you can do to improve your home and increase its value. The projects you take on to remodel or upgrade your home are personal to you and reflect what means most to you and your family. One of the often overlooked home improvements that can enhance your family and social lives is to add a screened room or porch. 
Increase Home Value
There are a lot of things that you can do to increase your home's value, and adding a screened porch or screen room is just one of them. Increasing your home's value is important for a number of reasons. If you ever decide to sell, it will help you get a better price. If you find yourself in a situation where you need to take out a loan against your home's equity, a screened room could help you get more from the deal.
Child Safety
Children love to be outdoors, but young children cannot be left outside without close supervision. A screen room or screened porch allows your small children and pets to be somewhat outdoors while still keeping them protected from harm.
Enjoyment
A screen room or screened porch can give you many hours, days, and years of enjoyment. It gives you a place to observe spring rain storms, which can be calming and relaxing. You can also use the screen room to entertain in the spring and summer months when the weather is good, but pests such as ants and mosquitos can ruin a party.
If you are ready to add a screen room or screened porch to your home, we can help. We can create a screen room as an addition or create a screen room from a porch or deck. Contact us today for more information or to get started.