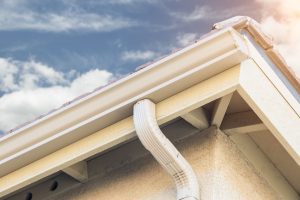 Your gutters might often be an afterthought, a chore that you dread doing each year. Yet your gutters are actually very important to the structural integrity and safety of your home and landscaping. Without appropriate gutters, you open up your home and lawn to potential water damage. Here are three reasons you might want to replace your gutters this fall.
Storm Damage
As we near the end of the Tampa rainy season, it is important to check your roof, chimney, facia, soffit, and gutters for storm damage. If your home sustained heavy rains, winds, or hail, chances are your gutters are fairly banged up. If this is their first season, they may not need to be replaced. If you have had the same gutters for years, you need to make sure to check them carefully for signs that they are not stable.
Wear
Gutters wear out and need to be replaced every so often. The average lifespan of gutters is 20 years. If the gutters on your home are 20 years or older, you will need to consider getting them replaced. If you are nearing that 20 years or if you are not sure how old the gutters are, you will want to make sure to check them over carefully for signs of wear.
Tis the Season
Now is the best time to schedule your gutter replacement. The rainy season is ending, and the cool dry months of late fall and winter are just around the corner. These months are the best time to get any work done on the exterior of your home, including getting new gutters.
If you are interested in scheduling an estimate to have your gutters replaced this season, contact us today for more information.