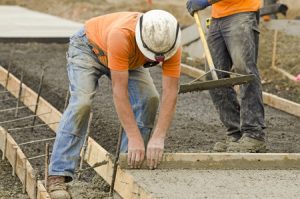 Any structure you intend to build in or around your home will require a solid ground foundation. Asphalt is a common choice for driveways, but concrete has a number of its own benefits that make it the perfect choice for any patio, pool deck, or sidewalk that you want to design.
The Perks of Concrete
Concrete is extremely strong and durable, which is why it's used in so many construction projects. The Coliseum, which is more than 1,500 years old, is made of concrete, proving just how durable the material is against moisture and the elements of weather. As a compact and non-porous material, concrete is also low-maintenance while still performing its job day after day, year after year. It's even naturally fire resistant with excellent thermal mass to reduce dramatic temperature changes. Best of all, concrete is more affordable than most other building materials!
Concrete Patio
An outdoor patio, screen room, or sunroom is the perfect place to enjoy the warm Florida weather, and concrete is the best material for the job. Since concrete reflects the sun's heat, it helps the area stay cool even in the intense summer months. Stamped concrete makes it possible to utilize concrete while still making your new outdoor area look sophisticated and far more expensive than it is. Stamped concrete is concrete that is patterned and textured to resemble another material like brick, flagstone, tile, or even wood. This means that your concrete patio can meet any design vision you may have.
Pool Deck
Just as with a patio, your new pool deck will look incredible made of stamped concrete. Concrete is the best material since it can withstand excessive water exposure and it stays cool for bare feet. You can select a stamped concrete that makes your pool deck look like it's made of expensive flagstone or even tile. There's no limits to how concrete can transform the appearance of your pool.
Sidewalk
Whether you're restoring an existing sidewalk or creating a new walking area between your driveway or street and front door, concrete can get the job done. Select your favorite decorative stamped concrete and enjoy the economical yet beautiful results.