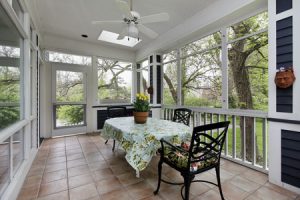 You have screens on your windows, but that is far from the only use of screens around your home. If you want to welcome the upcoming spring season with a brand new addition to your property, continue these three exciting uses of screens.
Pool Enclosure
A swimming pool is a great perk to have in your backyard, especially because it can improve your quality of living, provide a social gathering place, and give you a break from the heat. This makes protecting your pool very important to its longevity and ease of maintenance. Aluminum swimming pool enclosures with screens make efficient and attractive pool enclosures that allow you to use your swimming pool without any worry of debris, insects, and other encumbrances. You'd be hardpressed to find a swimming pool in Florida without a screen enclosure, due to the many perks that screen enclosures provide.
Screen Room
If you don't have a pool, you can still enjoy time outside with a screen room. A screen room is essentially a porch that is enclosed by screens to keep the bugs, wind, debris, rain, and hot sun at bay. Most homeowners with screen rooms enjoy using them through the summer, fall, and spring for reading, relaxing, and socializing.
Sun Room
A sun room is very similar to a screen room, except that sun rooms are often equipped with heat and AC and interchangeable windows and screens. This makes a sunroom a four season room since the windows and heat can keep everything warm during the winter, and screens and air conditioning can keep it comfortable during the warmer months.
By working with a custom screen designer, you can create a screen enclosure or room that meets your needs and helps existing areas of your home become even more useful. There are even different types of screens you can choose from in order to resolve glare or extreme temperatures!