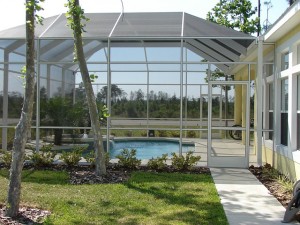 Screen enclosures offer a great way to enjoy the beautiful outdoors while avoiding common annoyances like cold, bugs, wind, and even bright sun. Building a screen enclosure in your backyard or onto your home will boost your enjoyment of your outdoor space and will increase the value of your home.
There is almost an unlimited number of types of screen enclosures. Each option works best with different kinds of homes and outdoor spaces, so finding the one that is best for you is easy.
There are 4 main kinds of screen enclosures:
Pool Enclosures
A pool enclosure is a screen enclosure that is specifically made to protect an outdoor pond or swimming pool. Pool enclosures can be in ground or above ground, and they are great for keeping children, animals, and bugs out of your pool.
Screen Rooms
A screen room is a kind of screen enclosure that has a solid roof with open screen walls. Screen rooms are great to go on top of a deck, patio, or next to a home. They can have sloped or even gabled roofs to suit your preference.
Patio Covers
This type of screen enclosure is not a fully enclosed space, but rather a simple covering over the top of a space. Patio covers protect you from sun and rain, and they can easily have ceiling fans installed for more comfort.
Sunrooms
Sunrooms are ideal settings to enjoy the outdoors while still having total protection from the cold, wind, sun, heat, and bugs. Sunrooms are totally enclosed, so they can be completely controlled in terms of temperature and lighting.
Screen enclosures come in a large variety of shapes and forms, but the above 4 are the most basic types. You can easily add one of these screen enclosures to your home for indoor and outdoor enjoyment.