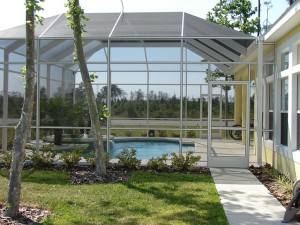 A swimming pool is a great investment for your home, and it will give your children something to do every summer. It is also a great investment for an older couple who want to lounge and exercise during the summer months. With that serious investment, you might want to consider protecting it.
If you want to keep your pool clean and free of debris, dirt, leaves, and insects, you might want to consider a pool enclosure. You can always have your pool cleaned or do it yourself even, but a pool enclosure will mean less work all around, and less expense. You can have a custom-designed screen built for your pool that will keep all the bad stuff out – so you can enjoy your pool instead of worrying about cleaning it.
If you've been busy at work all day, you just want to come home and go for a swim. You need to cool off, swim a few laps, and float around in your inflatable raft with a cold beer. You certainly don't want to be faced with the prospect of a dirty pool full of debris. You don't want to wait for the pool cleaners to come either, because you want to use your pool right away.
A pool enclosure will keep all that dirty debris out, ensure your pool is free of bugs, minimize UV exposure, offer privacy, increase your safety and reduce your liability if you have young children, and increase the value of your home. A specially designed enclosure can even help you modulate the temperature of your pool. If you have a pool, then consider a screen a required accessory. If you don't own a pool enclosure, then you really aren't a serious pool owner, because you don't care about protecting the value of your investment and making the most of it.