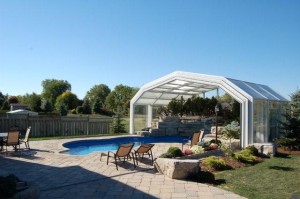 Swimming pools are simply wonderful! They are awesome places to escape the heat, relax, and have fun. You obviously want your pool to last as long as possible, and the best way to ensure that is to make sure that your pool is protected. An easy and effective way to keep your pool safe is by building a pool enclosure.
Pool enclosures not only lower the maintenance costs of the pool, but they also keep you, your family, and your pets safe by building a barrier between the pool and the rest of your outdoor space.
There are a lot of different kinds of pool enclosures, all with their pros and cons. It is a good idea to know and understand the basic types of pool enclosures so you can pick out the best one for you and your pool.
Here are some options for you to consider:
Dome – A dome pool enclosure is the most typical style and has a domed roof with big panels of glass or screen.
Screen Room – This pool enclosure style is just like a screened in porch and can be attached to your home.
Gable – A gable pool enclosure has a big peak at the top like a church. This style provides easy maintenance and stability.
Shed – A shed pool enclosure is attached to your house and has a roof with a downward slope for water runoff.
Mansard – Mansard pool enclosures have flat roofs with slanting sides, just like a mesa to make you feel like you are still outside.
Hip – A hip pool enclosure has a roof that slopes downward on all sides just like a house.
These are just some of the basic kinds of pool enclosures. You are always free to design your own and get creative with a customized pool enclosure!