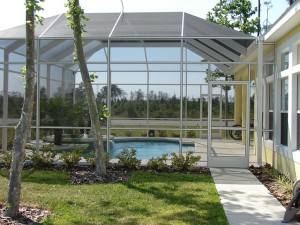 If you are looking for a simple way to maximize your outdoor space, why not build an aluminum screen enclosure around your outdoor pool? Having a pool is a great way to maximize your outdoor space, and building an aluminum screen enclosure will add both style and function to the area. Best of all, an aluminum enclosure doesn't have to cost you a fortune.
Benefits of Aluminum Screen Enclosures
Having an outdoor pool is great – especially if you like to do outdoor entertaining. But there are times when being outdoors it less than optimal. On very hot days when the sun is beating down, sometimes even the cool water in your pool is not enough to keep you comfortable. On warm summer evenings, the bugs can become such a nuisance that you cannot even enjoy yourself. Building an enclosure over and around your pool will solve both of these problems. A pool enclosure will also keep the sun from heating your pool too much, and it will keep the pool area warm on cold days so you can keep using your pool all year round.
In addition to making your outdoor pool area a more usable space, an aluminum screen enclosure will also cut down on your maintenance tasks. With a pool enclosure, you don't have to worry about dirt and leaves falling into the pool – your pool will stay nice and clean with minimal effort on your part. In the summer, a pool enclosure will help reduce evaporation of your pool water; in the winter, you can enjoy your pool without having to crank up the heater. Both of these things will save you money in the long run.
If you are looking for a way to cut down on pool maintenance costs while also maximizing your use of your pool area, consider an aluminum screen enclosure. Pool enclosures are highly efficient, and they can be made from high-quality materials so that they add to rather than detract from the style of your home.