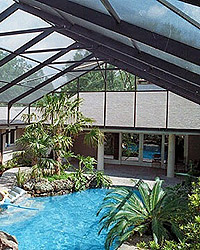 If you want to expand your living space, you could build an addition onto your home, but that would be a complex and expensive project. You could also build a fancy outdoor patio – less expensive, but still a big project. Or you could add to your already existing outdoor pool with an aluminum pool enclosure. This option is by far the best because it is affordable, practical, and stylish to boot.
Why Build a Pool Enclosure?
You may think that things can't get any better than having an outdoor pool where you can spend hot summer days with your friends and family. But what happens on those hot and sticky days? The sun is beating down on you while you are in the pool, and, at night, the insects come out to play. Plus, you have to worry about cleaning out leaves in the fall and bugs, dirt, and miscellaneous debris all year round. Building a pool enclosure can solve all of those problems for you – and many more!
By building an aluminum, glass, or screen enclosure around your pool, you can maximize the use of your pool area. No longer will you have to worry about the sun heating up your pool and causing the water to evaporate. During the winter, you'll still be able to swim without having to pay expensive heating bills. And all year round, you will enjoy reduced maintenance costs because you won't have to filter out all kinds of dirt, dust, and debris. Simply put, there is no reason why you shouldn't build an enclosure around your pool.
Building a pool enclosure is probably not a task you want to take on yourself. Luckily, there are plenty of companies and services out there willing to do it for you, often at a surprisingly affordable price. So, if you are ready to transform your pool space with an enclosure, don't delay any longer – contact a pool enclosure service today.