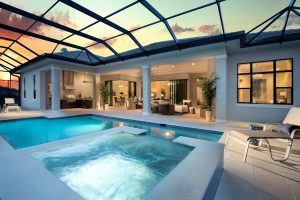 Enclosing your outdoor pool here in hot, sunny Florida is almost a must. Without a pool enclosure, you'll be skimming leaves and other debris out of the pool constantly, burning your feet on the hot concrete, and begging for a cool breeze to come by. But before you sign a contract to have your pool enclosed, you need to be 100% sure that the contractor you're using is reliable, reputable, and professional. Here are our top tips on choosing the right pool enclosure contractor for your project:
Licensed, bonded, and insured
Pool enclosure projects can be quite expensive, and if you choose a cut-rate contractor with no credentials, it's not just going to be that sun that might burn you. Never choose a contractor without a minimum of a general contractor's license from the county where they are located and/or working (some counties will accept the state-issued contractor's license, while others will want a county-specific license). General contractors in Florida are required to carry minimum business liability insurance of:
$300,000 for bodily injury.

$50,000 for property damage.
Some counties may have even higher insurance requirements. Florida and its counties also require contractors to carry various bonds to work in the state. The exact type and amounts vary depending on the contractor and the work they intend to complete. Always check with your county for their contractor requirements, and cross-reference this to the information any potential pool enclosure contractor provides you. If it doesn't match up, you're better to move on to someone else.
Written estimate & contract
Never accept a verbal estimate or contract from any contractor. This will surely leave you in a "he said, she said" type situation later that might cost you thousands if you can't prove your side is the truth. All reputable contractors will always provide clear, itemized, written estimates and contracts to avoid confusion and protect both parties later on if issues do arise.
Always ask for references from every contractor you interview, including photos and contact information for previous clients. Do your research, call the references, and trust your instincts. If a contractor can't produce references or photos, you're taking a huge risk trusting them with your project, and you'll be better off choosing someone else.
Many contractors may refer you to their website or social media for references and photos. Having a face on the internet is an absolute must in 2021. A company's online presence can tell you a lot about them, and discrepancies in the information online versus what the contractor tells you can raise important red flags. If your potential pool enclosure contractor tells you all their clients are 100% satisfied, check their online reviews. Google and Facebook reviews should mirror these claims of complete client satisfaction, and if they don't, move on to someone more trustworthy. 
Social media sites can also give some important insight into the contractor. Say they have a Facebook page with lots of photos of gorgeous constructions and some great reviews, but you notice that their page doesn't actually have many likes and all the photos seem to have been posted on the same day, with no comments or other interactions. This is a huge red flag that you're dealing with a potential scammer who has set up a fake page just to lure unsuspecting victims into construction fraud, which is actually a big problem here in Florida. Be diligent about checking out all aspects of your potential contractor's online presence to avoid costly and embarrassing situations.
Warranty & Repair services
You never want to get hit with a repair bill as soon as your pool enclosure goes up, or even worse, find out the contractor who built your enclosure can't repair it! Choose a contractor that offers a warranty and repair services for their own work. We offer a three-year warranty on all our aluminum pool enclosures and are able to complete repair services ourselves here at A.R.M. Aluminum.
If you want a reputable pool enclosure specialist that checks all the boxes on this list, trust the professionals here in Tampa at A.R.M. Aluminum. We have over 60 years of combined experience, and we specialize in pool enclosures, making us the perfect contractor to keep you out of the summer heat in a new, stylish outdoor enclosure. Call us at (813) 684-8800 today to schedule your free estimate.