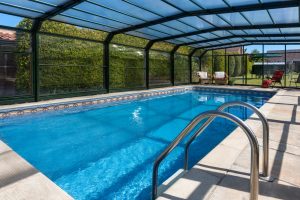 There's nothing better than soaking up the Florida sun in your very own backyard pool enclosure; You get all the benefits of an indoor pool while still getting the enjoyment of being outside. If issues with your pool enclosure are keeping you from enjoying your outdoor space, it may be time to think about a replacement. Consider replacing your pool enclosure if:
There is noticeable, extensive damage.
Enclosures that are not maintained are often too far gone for a simple patch job, and the entire structure needs to be replaced. This is common in homes that sit unoccupied for a while or enclosures that are built with inferior materials. Rust damage, torn screens, or even buckling of the support frame are all issues homeowners may face and are sure-fire signs that a new enclosure is needed.
The algae have taken over.
Algae love to grow on the screen of your pool enclosure. Not only is it a bad look, but the overgrowth of algae can also have some detrimental health effects for you and your family. Once algae have taken over, traditional cleaning methods will not stop it, and total enclosure replacement may be your only option. Stop algae growth before it starts with a high-quality aluminum structure and screening built to be algae-resistant. 
Your family may have outgrown your enclosure's current size, or you might just want to switch up your outdoor aesthetic. Remodeling is a great reason to upgrade to a new pool enclosure as you can customize the enclosure to meet your exact needs. Plus, remodeling presents the opportunity to take advantage of new technology available for outdoor spaces, such as UV-resistant materials, retractable sunshades, built-in sound systems, and more!
Bugs and debris are getting into the pool.
Sometimes the damage to your enclosure screens isn't noticeable…to you at least. Bugs can find even the tiniest of holes to crawl through. If you start noticing bugs or yard debris in your pool, you can bet you've got screen damage somewhere. Small holes and tears can sometimes be patched up, but often it is beneficial to rescreen everything.
Do you want to know the best reason to replace your pool enclosure? Because you want to! Call A.R.M. Aluminum for a free estimate on a customized pool enclosure that checks every box on your list. We only use the highest-quality materials and superior craftsmanship to build pool enclosures that can stand up to Florida's crazy weather. Whether it's hurricane-force winds, pouring rain, or sizzling heat, we've got you covered all year long.