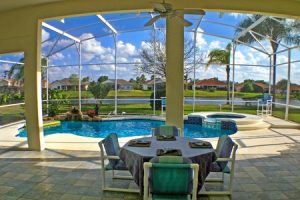 If you have just moved to Florida, you now live in a gorgeous state with a famously warm and humid climate. However, Florida's strong sun and humidity have their downfalls as well. In order to enjoy your home as much as possible in all four seasons, it is important for you to invest in these three custom-made enclosures for your new home. 
Screen Room
A screen room is one of the simplest ways to extend the living space of your house and increase its functionality. An aluminum screen room offers a number of perks, which is why it's hard to find a Florida home without one! 
First, a screen room makes it possible for you to enjoy time outside, even at night, without being attacked by bugs and bitten by mosquitos. This is a major comfort and safety factor, considering how many diseases mosquitos are known to carry and transmit. 
In addition, a screen room helps protect your outdoor belongings from damage caused by wind, bad weather, debris, and critters. Whether it is raining or sweltering hot, you can still enjoy your screen room to its fullest. 
Pool Enclosure
A backyard pool is a major investment, one that most Floridians rely upon to stay cool in the hot spring, summer, and fall months. A pool enclosure is a large aluminum and screen structure that covers the entire pool and pool deck area in order to keep both the pool and its swimmers protected from the elements. 
Insects, yard debris, wind, and rain are all significantly reduced with the help of a pool enclosure, which increases how much everybody can enjoy the pool area any time of day! A pool enclosure serves as a safety measure so that children playing in the yard cannot accidentally fall in. 
Lanai
A lanai is a term that most people outside Florida aren't entirely familiar with. It's essentially a covered porch or veranda furnished with casual tables, chairs, and benches. Most Floridians have a lanai that blends into the pool area, and both are protected by a pool enclosure. 
Whether a backyard pool does or doesn't exist, a lanai offers a totally covered area to relax and enjoy the outdoors. A ceiling fan makes hot days feel more comfortable in the summer, and the area usually remains warm enough in the winter to enjoy meals outdoors. 
ARM Aluminum USA is here to help you customize your dream enclosure and make it a reality. Call us today for your consultation to learn more.