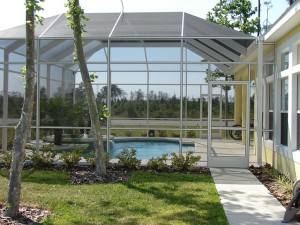 Pool enclosures are the ideal way to combine the indoors with the outdoors, as well as create a beautiful environment in which to enjoy your pool. They provide shelter, security and privacy, and can really help you to get the most from your swimming area.
However, in order to make sure that you really get the best from your enclosure, it's important to think about a few things first.
4 Things to Consider Before Purchasing a Pool Enclosure
1) Heating Costs – Having a pool enclosure reduces the sun's ability to heat your pool naturally, and a pool enclosure can decrease the temperature of your pool by partially blocking the sun's rays. Here in Florida, that can actually be a real advantage, as it cools the water down wonderfully, not to mention provides your family with protection from UV rays. However, it might be something you want to think about before you get in touch with your pool enclosure manufacturer.
2) Ground Space – A pool enclosure enhances your ability to use your pool year round, but remember that you'll need a suitable area of ground on which to place it. If you have an expansive lawn, this should not be an issue. However if you have smaller green space, consider how many square feet your pool enclosure would require. If in doubt, ask for the advice of an expert.
3) Maintenance – Pool enclosures provide a variety of benefits, and can actually reduce costs of swimming pool maintenance, as they prevent leaves and debris from falling into the water; not to mention unwelcome animal visitors! However, although they're built to last, they may require maintenance in the future, so make sure you factor this into your overall cost when budgeting.
4) Enclosure Type – Pool enclosures come in a variety of shapes, sizes, and materials. Do you want an enclosure that acts as another room in your house, or are you looking for a space that lets you best enjoy the outdoors? Talking to a pool enclosure expert is the best way to help find the enclosure that will work best for you and your family.
Pool Enclosures in Tampa
If you're considering investing in a pool enclosure, the first step is to talk to an enclosure expert. To arrange a consultation with ARM Aluminum, just call 813 684 8800 today.