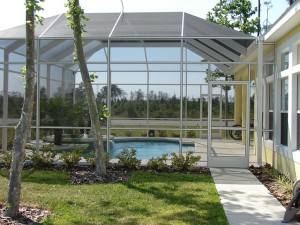 Screen rooms in your backyard are a great combination of functionality and value. They allow you to keep your belongings safe from exposure to the weather and wildlife, while also giving you more space and natural sunlight to enjoy year-round.
As practical as they are, a screen room is generally an added extension to an already existing house, so how do you make the style of the screen room flow with the rest of the home? Here are some ideas to get you started.
Color Consistency is Key
Most homes have the same single color that shows up in every room. Whether it is the wall paint, furniture or accessory accents, a consistent color scheme is vital to making sure your screen room does not stick out like a sore thumb. Have fun with your selections by choosing a whole spectrum of shades that will keep your screen room vibrant and welcoming.
Find Your Screen Room Comfort Zone
A screen room addition opens up a lot of options to you. You can sip a nice cup of coffee in the morning as the sun hits your face, lazily read a book during the hot afternoon, or entertain guests without worrying about insects. Consider specifically how you want to utilize your screen room space, and go from there. Only purchase furniture or accessories you know you can enjoy time and time again.
Set the Mood with Well-Placed Lighting
You cannot set the perfect ambiance in your screen room without considering your lighting. After you pick a color and decide your screen room's primary purpose, choose lighting that will complement and enhance the mood you want. Whether you decide on a complicated approach or choose to keep it simple, make sure your lighting reflects your own personality.
A screen room will be extremely useful and satisfying in your home if you make the effort to put your own style into it. Have fun with your decorating and enjoy all of the possibilities it can add your home.
Image credit: gbeaty