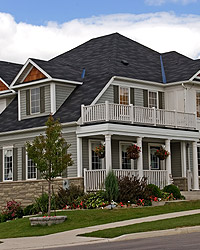 There is one thing that most homeowners agree on, and that is it is always a good idea to increase the value of their homes, if it can be done at a reasonable cost. One of the best ways, and most affordable ways, to increase the value of any home is to add usable outdoor spaces. Not only does this add value, but it also makes the home more enjoyable for those living in it.
There are a lot of possibilities when it comes to adding outdoor spaces. A very popular project is to add a patio. Most experts agree that a new patio is a worthwhile investment for a few reasons. The new space is relatively easy to build; there are many design features to choose from, and the whole family can enjoy the area while they are living in the home. Patios, especially in pleasant climates, are wonderful for entertaining guests, hosting parties of all types, or simply enjoying the sunshine during the day or relaxing in the cool, moon-filled evenings.
But a new patio can serve another purpose as well. The National Association of Realtors reports that home patios are in the top 10 features that most home buyers want to see in a new house. It gets better. Over 50 percent of those asked said that they would pay more if the house had an attractive patio already in place.
This can be important in a slow housing market for those who want to sell their homes. Making improvements such as this can truly pay off when they help to get your home sold faster and at a higher price. With so many potential buyers looking for homes with patios, why would you delay in having one installed?
While all of this is true, it is also true that the patio you have installed be well-designed, constructed with quality materials, and properly maintained. If you have an existing patio, you may want to look into having it updated and repaired, both of which are possible when you work with an experienced contractor. And, again, this is an investment that actually pays off both in the short term (you get to enjoy the new patio) and the long term (increased value and curb appeal).
There are a couple of things to keep in mind, however, when planning a new patio. First, avoid making your patio too large for your yard. Seek a nice balance between your green space and your patio. Likewise, avoid putting in a tiny patio if you have lots of yard space to work with. Proportional balancing is important.
If at all possible, you should have your new patio located closer to the house rather than farther away. Many homeowners prefer to have their patio closer to the kitchen if they plan on entertaining or eating on the patio. Generally speaking, your patio should not be located in the front of your home or in areas that do not provide much privacy. While being seen by all your neighbors and those driving by may be fine with you, future buyers may find it less than desirable, resulting in actually decreasing the value of your home.