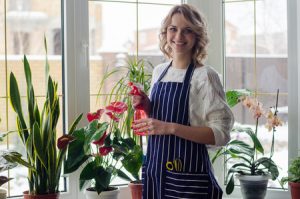 A screen enclosure is practically a backyard requirement when you live in Florida. Between relentless insects and strong sunshine, a screen room or pool screen enclosure is the best way to enjoy the outdoors without the discomfort brought on by mosquito bites and UV rays. Of course, a screen room or enclosure doesn't have to stand bare on its own. You're sure to fill it with furniture and decor, and don't forget the greenery! The following plants can soften the appearance of your screen enclosure, add beauty, and build character.
Potted Plants
If you're trying to install greenery around your screen enclosure without digging up the ground, potted plants provide a simple and immediately solution. Remember to select plants that can thrive in partial to full shade since your screen room actually filters sunlight. One great option is elephant ears, since the hardy plant offers oversized leaves, long stalks, and a deep green color. For a plant with narrow leaves, consider the hostas, which is very low maintenance and provides excellent foliage.
Perennials
By including perennials in your gardening plans, you can enjoy their bloom every year without having to worry about planting new flora. White baneberry boasts gorgeous white flowers from May into June, while meadow rue lends your pool or porch area a woodsy, natural feel with tiny, shade-love foliage. With the right perennials, you can add low-maintenance color to your screened area.   
Evergreens
Evergreens are perhaps the simplest plants to enjoy in your screen enclosure. Shrubs like the plum yew and bluestem joint fir have needles instead of leaves, so cleanup and debris aren't an issue. Since they prefer shady conditions and can withstand drought, they are perfect in a Florida screen enclosure.
With a sturdy, custom aluminum screen enclosure and beautiful greenery to soften the interior, you can fully enjoy your backyard all year long in Florida. A.R.M. Aluminum Inc. serves the Tampa, Florida area with aluminum screen rooms and pool enclosures, so give them a call today at 813-684-8800 to start transforming your own outdoor space.