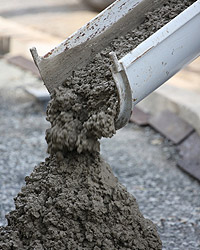 Your backyard should be your own mini-sanctuary: a refuge where you can relax after a stressful day, an area designed and decorated to your standards, and a popular place for guests. Seating, an outdoor fireplace, and ambient lights are all very important, but don't forget the ground! Wading through muddy grass takes the fun out of it.
Concrete is a perfect solution on all fronts, especially with modern advances making it much more versatile than the plain concrete you're thinking of. Known as stamped concrete, this surface option is affordable, attractive, durable, and practical!
Stamped concrete is standard concrete that is imprinted and colored to resemble the pavers or natural stone of your choice. It is a very popular trend right now in driveway, patio, walkway, and pool deck construction thanks to its many benefits and variations!
Affordability: Rather than paying for full loads of expensive stone or brick, concrete is affordable and provides you with a way to give your home a very stylish design without emptying your savings account.
Less Maintenance: Though it may look like separate stones, stamped concrete is actually one large connected piece. This means that weeds are less likely to grow in cracks. Stamped concrete can also last beautifully for decades because it is crack-resistant and durable!
Unlimited Design Options: You can mold your concrete to look like any natural material you have in mind! Stone patterns like slate and fieldstone are popular choices, along with brick and cobblestone. The stamping mats used to create the designs are actually molded from the true materials, so your concrete will look so real that you'll forget it didn't cost four times what you paid.
This is definitely not a project to do yourself. Hire a professional team to install the stamped concrete that will transform the appearance of your outdoor area for years to come.