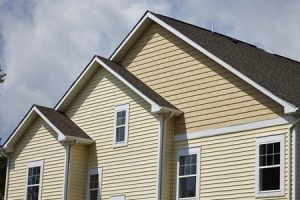 Rain gutters aren't the flashiest or most exciting component of home design, but they do play a very important role in the overall aesthetic appeal and reliable function of your home. Unfortunately, standard gutters have many downfalls that make them inefficient. If you're looking to improve your home in a simple yet comprehensive way, the installation of seamless gutters is a good choice.
What Are Seamless Gutters?
Standard gutters are smaller pieces of metal or vinyl that are connected together to reach the proper length for your home.  Seamless gutters, on the other hand, are designed in one cohesive piece to eliminate all of the seams that could potentially lead to leaks.
The Benefits of Seamless Gutters
The water drained through seamless gutters has nowhere to escape, so leaks can never occur. This is very important for your Florida home that likely endures heavy rainfall and flooding at certain points in the year. Since seamless gutters allow water be carried away from your home more efficiently, they significantly decrease the risk of water infiltrating your home's foundation and threatening its strength and integrity.
In addition, since seamless gutters are constructed from aluminum, they are not at risk of the expansion, contraction, and freezing that normal gutters often are. Even the worst weather conditions have no impact on seamless aluminum gutters.
Furthermore, seamless gutters are custom cut on-site to meet the exact measurements of your yard. They are designed to blend in perfectly with any soffit or fascia already on your home, so most people won't even notice the gutters are there at all. They will do their job without causing any unsightliness! This is in direct contrast to traditional gutters that are tacked onto the eaves of your home and end up looking like an unfortunate afterthought. With dozens of colors available, you can customize your seamless gutters to your exact specifications.
ARM Aluminum Inc. in Tampa, Florida offers premier seamless gutter construction and installation services for your Florida home. Call (813) 684-8800 to learn more and begin the process of improving your home today!