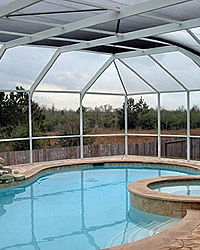 So, you installed a new pool enclosure at your home and it looks great. Now you obviously want to take good care of it right? Well, it is not as easy as it seems. There are various things that you need to take into consideration when keeping it maintained that are important to understand. Keep on reading to find out more about the do's and don'ts of pool enclosure maintenance.
What to Do
A great way to maintain your enclosure is to wash it with a mixture of mild soap and water. You can use dish soap for this purpose as well. During the cleaning process, try stroking the enclosure with a soft bristle brush. Always scrub with an up and down, side to side or in a front to back manner. Make sure that your strokes are gentle so that the enclosure is not damaged in the process.
After you are done with the washing process, it is important to let the thing dry off. You can use a cotton cloth to dry it off as well. Only after the enclosure is completely dried of will it yield the results of your efforts. If necessary, repeat the washing process as your enclosure may require more washing, depending on how dirty it has gotten.
What Not to Do
Never try to use strong bleach to clean in the pool enclosure. If your enclosure is of aluminum then the bleach is likely to compromise its integrity. Therefore, always be careful with the brand and amount of bleach you use for cleaning.
It is better to avoid washing the pool enclosure with a pressure water hose. This may result in damaging the enclosure instead of actually washing it.
Your ways of cleaning your pool enclosure will ultimately decide how much it will last. So, adopt the right cleaning ways and give your pool enclosure a better and longer life.