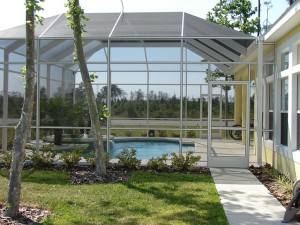 One of the best parts of being a homeowner is that you are able to add anything you would like without having to get permission. With all of the many home additions on the market, it can be a bit difficult to choose the one that you want. Perhaps the most popular home addition that you can make is a pool. A pool will allow you to bring the fun of the beach to your home and can make your home the most popular gathering place around. When you install a pool, you need to think about how an enclosure can benefit you. Here are a few of the advantages that having a pool enclosure can bring to your home.
Keeps the Danger Factor to a Minimum
One of the biggest benefits that come along with using a pool enclosure is that you will be able to keep both intruders and small children out of the pool. This will help to minimize the amount of mishaps that you have on your property. The money and time that is put into getting an enclosure will be more than worth it in the end. Make sure that you talk with your enclosure professional to see what you can do to enhance the overall safety that you have at your pool.
Keep Debris to a Minimum
Another advantage that comes with using an enclosure on our pool is that you will be able to reduce the amount of debris that gets into your investment. Things like branches and leaves can do a lot of damage to a pool in the right situation. By having an enclosure over the pool, you will be able to avoid these hazards and keep your investment in good shape for a long time to come.
Make sure that you find the right company to install your enclosure to avoid any issues in the future.