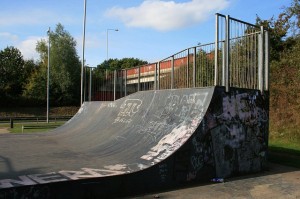 Are you a skateboarder? Do you ride BMX? Are your kids into skating? Maybe you work with a recreation center or with youth groups. Are you looking for durable, affordable and moveable skateboard quarter pipes, bank ramps, ledges, pyramids, and other skate park obstacles? If you are, the way to go is definitely with aluminum framed skate ramps.
Problems with Wooden Ramps
Obviously, not all skate parks can be permanent cement structures. For example, maybe you only have access to a tennis court or a similar space for a few months a year. If that's the case, wood ramps are great if you have an indoor space, but if they're left outside during one summer thunderstorm, they'll be mushy and useless by the time the rain and wind stops.
Moreover, even if the wooden ramps are inside, BMX riders attach metal pegs to the hubs of their wheels (the center part) in order to do grinds. These metal pegs absolutely devastate wooden ramps. What's the solution to these problems? It's an aluminum ramp.
Why You Should Choose Aluminum
The metal bar which forms the edge of the skateboard obstacle that skaters and bikers use to perform their grinds, slides and stalls is almost always made out of galvanized aluminum, no matter what the rest of the ramp is made out of. However, the best skateboard park builders have always known that aluminum is a top choice material used for making the ramp's skeletal structure, and even the skate-able surface of skate ramps as well. You can also surface an aluminum structure with a specialized material called skatelite for a high quality obstacle.
You can build any of the many obstacles that are found at the world famous Skate Park of Tampa with high quality aluminum framing. Your obstacles will last for ages, and you can move them anywhere. You can even disassemble them easily for storage purposes if you need to. Simply put, there's no better choice than aluminum when it comes to building portable obstacles used for skateboarding.