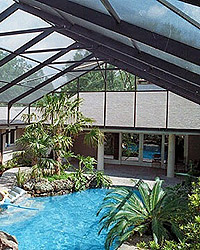 Have you ever considered pool enclosure installation? What about screened room installation? If you have not ever thought about these common, yet awesome, household additions, then consider this: A pool enclosure or screen porch will add tangible value to your home, while providing you and your family new ways to enjoy the outdoors as well as one another.
It is a proven fact that happier people simply live longer. They contract fewer diseases and suffer from fewer emotional issues. With an enhanced outdoor area, it is easier than ever before to enhance your mood and your property value in one single swoop.
Enjoying Outdoor Activities All Year Round is Essential
What is truly great about pool enclosures and screened rooms is that they give you the freedom to enjoy the outdoors without having to worry about the weather. In fact, one of the most exciting experiences you can have is to watch a thunderstorm from the comforts of your own backyard. With pool enclosures, you will even be able to take a dip in the middle of winter. How awesome is that?
Work with Professionals to Achieve the Lifestyle You Seek
Screen room installation or pool enclosure installation are two tasks that require assistance from professionals. Many amateur firms offer total installation services, but few possess the tools, personnel, and experience to get the job done right the first time. Furthermore, it is important to establish relationships with these kinds of professionals in order to maintain your enclosed space for years to come.
The concept is simple: Enjoy your family and friends more often from the confines of your enclosed spool or screened in porch. The fun you have been seeking is just around the corner. Make the smart choice and achieve the lifestyle you always wanted, today.