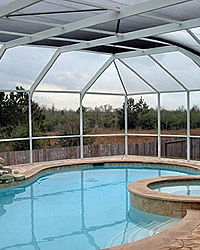 There are many ways to add value to your home. Obviously, you can have a home addition put in. You can renovate your home. You can add certain fixtures to your home. But many homeowners are quite clueless regarding basic additions that may actually put in value to their home. Of course, the actual value added to your house varies from region to region and also depends on how the addition was built.
But one way to add value at your home is to a pool enclosure. You might be scratching your head as to you why this is the case. Here are the five reasons why pool enclosures add value to your home:
Added security
It is a very sad statistics year after year that many children die from unattended pools. They just find their way into unsecured pool and end up drowning. This is heartbreak not just for the parents but for the whole community. This is why they added security or pool enclosures which really go a long way and giving people who are visiting your area more peace of mind. This can translate to added value to your home as a whole.
Makes your pool area look better
Depending on the kind of enclosure you have installed, the addition of such a structure can make your pool area look better. It is like with any kind of change to your existing home that impacts its appearance in a positive way. This might add value to your home. Again, it all boils down to design. It all boils down to how it fits the existing layout and value proposition of your home.
Mix from more professional set-up
A professional looking pool enclosure actually makes your pool area look safer. When it's safer of course, this may add value to your home. Why? Value in any kind of a marketplace is primarily a psychological reality. When people think a certain factor adds value, it can impact price of the home regardless of the reality. Keep this psychological aspect in mind.
Better-organized pool area
Anything that is more organized can often be a little bit safer. At the very least, it makes for easier clean-up. It also makes for a better looking space. When you add a pool enclosure, it can lead to a more organized look of your whole home. And this might impact the over-all perception of potential buyers of your home.
Longer life asset
Pool enclosures also prevent the spillage of liquids and solids into the water of your pool. This can end up degrading the life of your pool. At the very least, it might impact the surface of your pool. When you install a pool enclosure, this might have a positive effect in increasing the life of your pool. When this happens, this can possibly impact the value of your home as a whole.