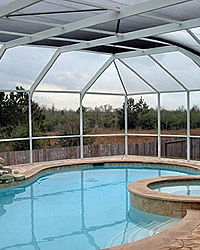 The summer is almost over, and now it is time to start thinking about preparing your backyard pool for fall. One of the things that you should really consider during this time is getting a pool enclosure. There are a lot of really good reasons to get a pool enclosure, especially at this time of the year.
Safety First
It can be dangerous for children to have access to an accessible pool at any time of the year, but the fall and winter can be especially dangerous. Even if you drain your pool for the year and cover it, a child can still fall in and hurt themselves very easily. A pool enclosure, especially one that locks, protects the kids in your neighborhood.
Easier Cleanup and Preparation
If you have had your pool for more than a season, you already know that preparing your pool for the summer can be a huge pain. Even if you use a pool cover, leaves and debris undoubtedly will make it to the bottom of your pool. A pool enclosure with a screened roof can keep debris and leaves out of your pool year-round.
Storm Protection
Your pool, pool cover, and surrounding concrete work can all be damaged during severe weather. A pool enclosure can give you an added layer of protection against debris that might blow around or tree branches that might fall.
If you are interested in a pool enclosure for these or other reasons, we can help. We offer aluminum construction pool enclosures, complete with doors or gates with an option for a lock. We can install most pool enclosures very quickly. Contact us today for more information or to schedule an estimate.