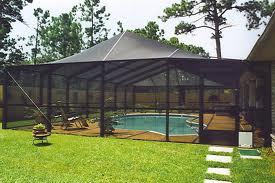 Did you know that the state of Florida requires all pools to be enclosed? There are several reasons for this, and there are few exceptions.  If you want to make sure your home's pool meets state requirements, we can help.
Screen rooms
There are a lot of advantages to using a screened structure to surround your pool. It allows easy view of your pool in case you have teens or others swimming while you are doing other things, yet our screens are tight enough mesh to keep most pests and some insects out of your pool. With a screen room you can feel like you are naked to the elements poolside, while still meeting the requirements for an enclosure.
Screen rooms keep small children out.
If your pool enclosure is only a fence, it might not keep out small children, rodents, or pets. In fact, many small children and animals can work their way through some surprisingly tight spaces. Even if the child doesn't get into the pool, they might get caught in the surrounding fencing. On the other hand, a completely screened enclosure doesn't allow for any maneuvering.
Screen rooms keep your pool clean
Your pool will require a lot less maintenance when you put a screen enclosure around it. Pool enclosures with tight screens don't allow leaves or debris into your pool. Depending on the screen desired, you may even be able to keep out most larger insects and pests.
Ready to build a screened pool enclosure at your home? Contact us today for an estimate.